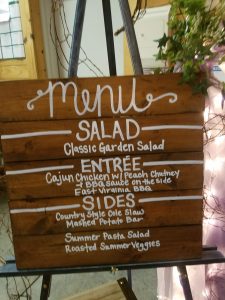 Relax – Let Our Experts Help!  Whether your desire is Classic Southern, New York Chic,  Pacific Rim to New England Clam Bake, selection is virtually limitless. The menu design process begins by understanding your vision. Then, after we understand your general likes/dislikes and special food requirements, we are able to quickly create a proposal for you to review.
We suggest setting up a consultation so we may guide you through the event planning process. Our event planning staff will assist you with menu development. We will be available during your complementary menu tasting once menu has been finalized.
Whether your event is nestled among magnolia groves at a charming Virginia estate or your backyard. Our team of experts will prepare a menu that suits your taste and budget.
Contact us today through our event planning form
(Office Hours Tues-Fri 10am-4pm):
David's award winning Crab Cakes, Elegant BBQ, and Brisket are always a crowd pleaser!